NURVV Run Insoles & Coaching App
£249.99
NURVV Run listens to your feet – providing insights & guidance into cadence, step length, foot strike, pronation and balance so you can run faster, further and reduce injury.
An award-winning sports wearable, NURVV Run's smart running insoles and lightweight trackers fit comfortably with any running shoe, sending data directly to the app to provide you with unique insights. Pair NURVV with your Apple™ or Garmin ® watch for a complete training experience, helping you to make every run a success.

Free tracked shipping to UK

Delivered in 1-3 working days
30 Day Money Back Guarantee
Try NURVV Run out for yourself, worry-free, if you're not completely satisfied simply return within 30 days for a refund
Product Detail
32 precision sensors collect data from the foot with world-leading accuracy that can only be replicated in a sports lab

Ultra slim, super soft, lightweight and fit comfortably under any running insole

Real time coaching with targeted audio, visual and haptic feedback to help you progress outdoors or on the treadmill

Footstrike Trainer, Pace Coach, Running Health score and recommended optimal training load to minimize injury and increase fitness
Whats in the box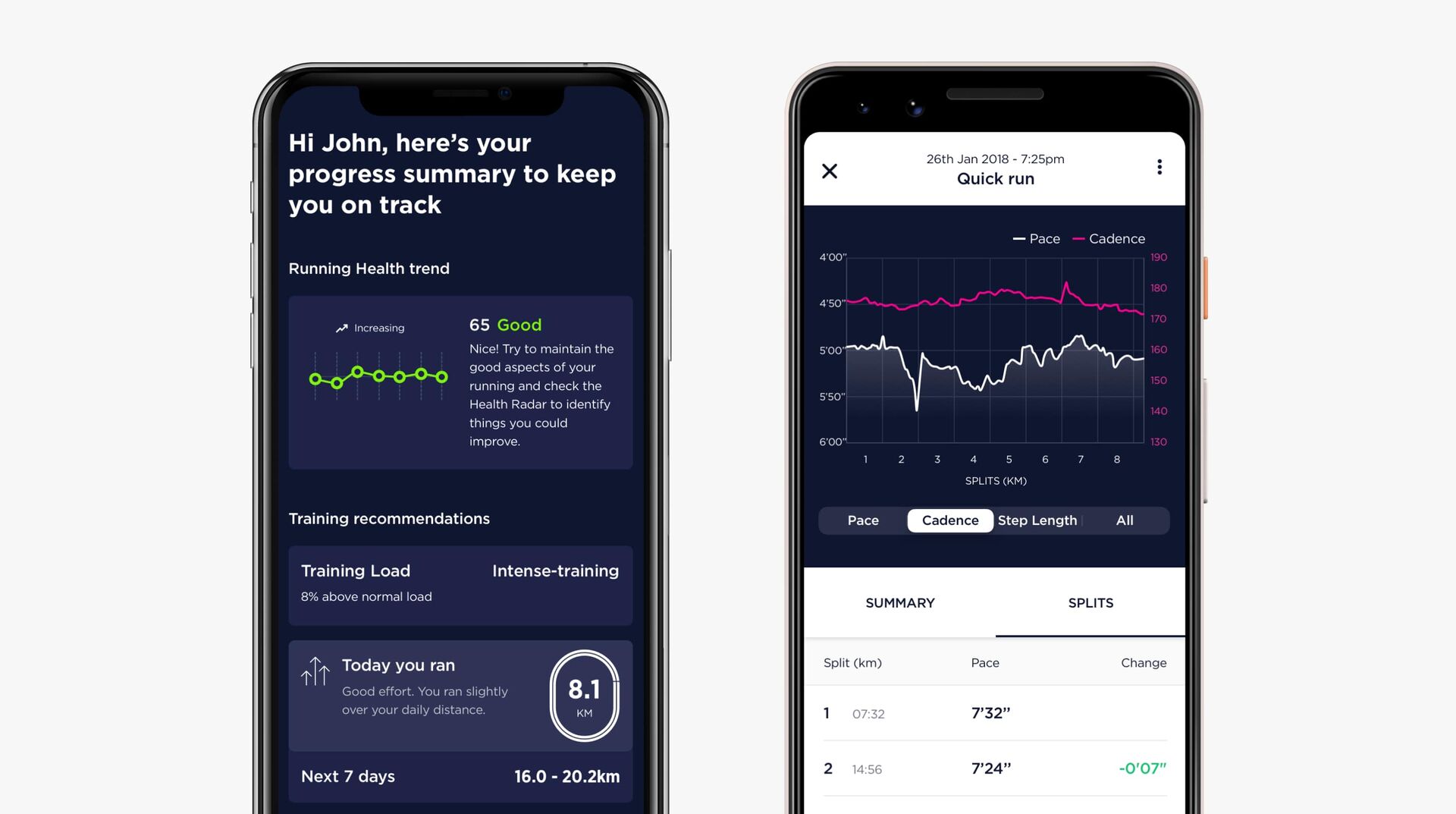 Compatibility
NURVV Run works with:
iOS: 12 or above (iPhone 6s or above)
Android™: 6.0 or above
Apple Watch Series 3 or above
ANT+ (Garmin)
Can also be used phone-free
Delivery
NURVV Run is usually delivered with signature required but due to the restrictions of COVID-19, Signature required service will be done by contactless delivery.
UK
Free standard shipping
Delivered in 1-3 working days
Tracked delivery
Signature required
US
Free standard shipping
Delivered in 2-5 working days
Tracked delivery
Signature required
Returns
30 Day Money Back Guarantee
For a limited time only Nurvv Limited is making an introductory offer in respect of Nurvv Run products purchased through Nurvv Limited's website www.nurvv.com. This offer commences on 19 October 2020. During the offer period buyers of the Nurvv Run product may, if not satisfied with the product, return the product for a full refund less our handling charges.
To be eligible for this refund offer all of the following eligibility requirements must be met:
The product must have been purchased from the website www.nurvv.com, and
The product must be returned within 30 days of the date of purchase, and
When returning the product all components are to be returned in the original box and packaging, and
All product components must be in good working order, and;
The product should be suitably packaged and labelled to avoid loss or damage during the return transit process, and
Customer should ensure timely drop-off at a convenient return service point location at customer's expense
To initiate a return please contact Support for a returns label at

[email protected]
Nurvv Limited have no obligation to consider a request placed outside 30 days of the date of delivery or the latest estimated date of arrival. All refunds are at the sole discretion of Nurvv Limited.
Refunds will only be made directly to the original payment method. Refunds will be processed within 30 days by Nurvv Limited once the returned product has been received.
Regrettably if you paid for any shipping costs these will not be included in the refund amount.
Refunds will be made less the return handling costs. Please see below table for the imposed costs per region:
| | |
| --- | --- |
| Region | Return Cost |
| USA | $ 15.00 |
| UK | £ 10.00 |
| EU | £ 20.00 |
This offer cannot be applied to any purchases previous the offer start date. There is no cash alternative. This offer is subject to change without notice.
Purchases are subject to additional terms and conditions presented on the website www.nurvv.com and at checkout.
This offer may be discontinued by Nurvv at its sole discretion.
Industry Recognition
We are thrilled to have received these awards & mentions:
"Immersive live coaching provides actionable changes while you're running."
Best New Running Tech and Gear
Best Tech CES 2020 Award
"NURVV delivers simple actionable insights and in-run coaching."
Best Tech Products 2020
CES Editors' Choice Awards 2020
Most innovative fitness tech of CES 2020
Best Fitness Tech Innovations of CES 2020
Fitness Tech award winner CES 2020
"This new running product takes tracking your run to a new level"
GearJunkie.com