Jul 9, 2020
8 Ways to Maintain Running Fitness While Social Distancing
Winter's on the way and gyms, pools and leisure centres are closed under lockdown 2.0 in England with further restrictions in place around the world. All these barriers mean it can be tough to keep on top of your workout routine. But with exercise boosting both your mental and physical health, it's more important than ever to stay motivated and build on any positive habits you developed earlier in the year.
Lockdown is also the perfect chance to boost your running fitness, and it's one lots of us took advantage of last time. Around 70% of Brits embraced the government's exercise allowance and took up some form of exercise during the first lockdown – and running was a popular choice. According to YouGov, walking, running and jogging were the activities of choice for 69%, with a further 20% of Brits working out at home and 12% following an exercise video as part of their daily fitness routine.
Best exercises to stay fit during lockdown 2.0
Google searches show that more of us are searching for 'social distance running' as we look for ways to maintain running fitness while social distancing or self-isolating. Here are eight ways to stay well and keep your training on track this winter whether you head outside or stay indoors
1. Don't stress about missed runs
The COVID-19 pandemic has left many people feeling anxious but mental health is just as important as physical health for staying fit and well. Stress can affect your immune system and disrupt sleep and eating patterns, so be kind to yourself.
Don't pressure yourself to follow a training schedule or worry if you can't run because you're self-isolating. Running isn't going anywhere, it'll still be there when things are more settled. Your health is much more important.
2. Structured solo runs
The official guidance in many countries is that, as long as you're feeling well and keep your distance from others, it's fine to head out for a solo run.
Most running clubs and groups are taking a break but you don't need to miss out on structured training sessions. Try these six workouts to improve running speed and endurance from our resident Community Manager and Coach, James Poole.
If you're missing the 'friendly' advice of your coach from the sidelines, NURVV RUN also offers coached workouts. Slip on your headphones and you'll get personalized audio cues giving you cadence and step-length coaching to meet target times.

3. If you can't get outside

Dark winter days can make it more challenging to get outside for a run, but you can still maintain your daily routine to stay fit even when it's freezing. There are plenty of great workouts online, many of them are free, and most require little space or equipment. YouTube is your friend.
High-intensity interval (HIIT) workouts that involve plyometric exercises – explosive moves such as squat jumps, jump lunges and the dreaded burpees – can have great benefits for runners.
Studies suggest that plyometric training can help improve strength, endurance and speed. In one trial , runners who took part in six-weeks of plyometric training beat their time trial speed by almost 4 percent.
HIIT, which involves intense bursts of exercise followed by a short period of rest, is also great for boosting your VO2 max – the amount of oxygen you can use during exercise – and can increase your metabolic rate, meaning you burn calories long after you workout.
4. Do some strength work
Hands up if you're guilty of neglecting strength workouts. Now's the time to reap the benefits.
Strength work can help prevent injuries by strengthening muscles and connective tissues and it can improve your running speed, too.
Bodyweight exercises are easy to do at home as they require no equipment and there are plenty of free workouts online to try. Workouts that include single-leg exercises are particularly beneficial for runners as they work on your core, balance and stability, which can help improve your running form.
5. Sign up for a virtual challenge
If you're the type of runner who needs a race or goal to aim for, the lack of official runs and race bling may be zapping your motivation. Luckily there are plenty of virtual challenges and runs to sign up for.
A quick Google will reveal a host of companies who specialise in virtual races. Virtual races allow you to complete the distance at a time and place that suits you and receive a shiny medal in the post for your efforts. Some race organisers are offering virtual options for cancelled races, too.
If you prefer your medals in digital form, sign up for one of the monthly challenges on Strava and receive a virtual badge on your profile. Challenges range from covering 200km in a month to completing 5k or climbing 2,000 metres of elevation in your runs.
6. Try yoga
Hamstrings tight, hip flexors feeling stiff? Time to get flexy with it.
Yoga is one of the best exercises to stay fit and can reach some of those tight spots, increase your flexibility and range of motion, help with balance and coordination and build strength. It also has a big focus on breathing so you might learn some useful techniques for your next race.
There are lots of different types of yoga from the energetic – such as vinyasa and ashtanga – to the more restorative styles like yin. Search Youtube for yoga for runners or beginner yoga if you're new to it.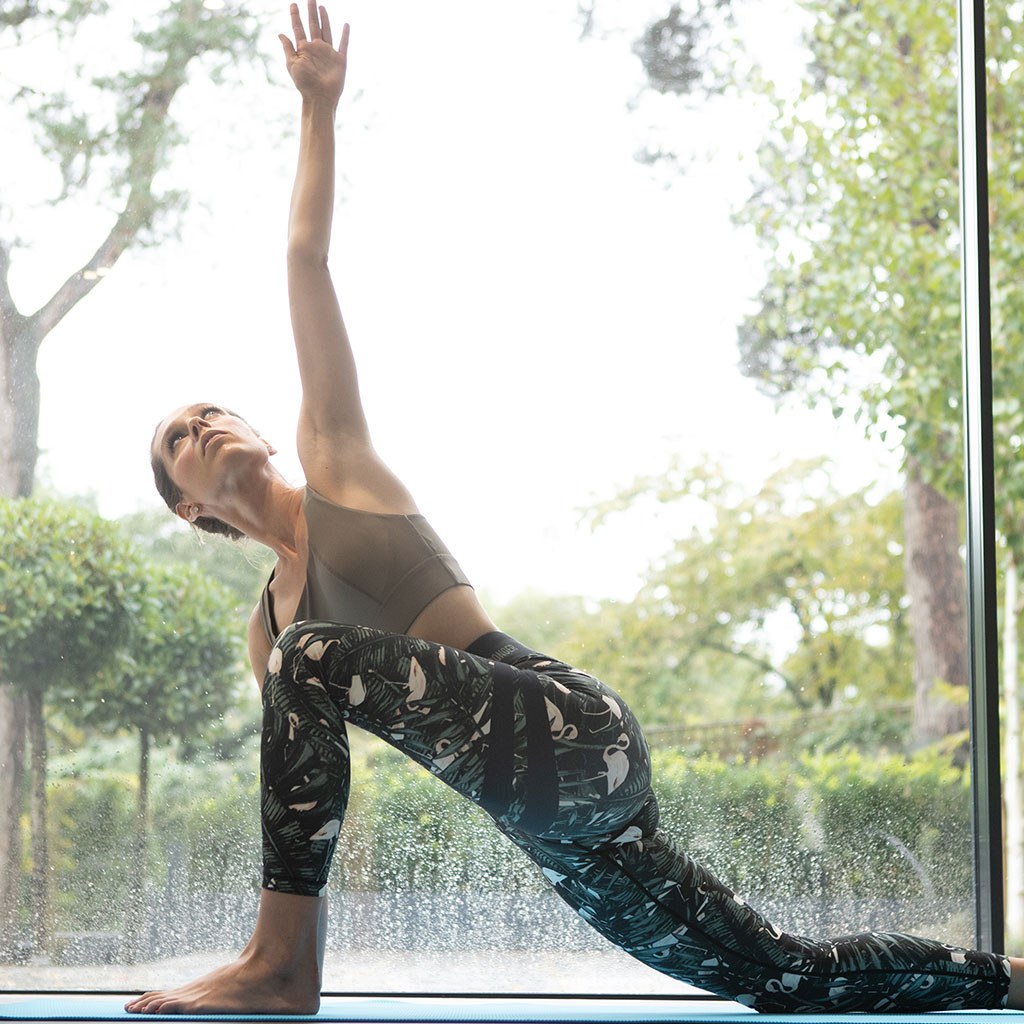 7. Keep it social
What do runners love almost as much as running? Talking about running.
If your family has no interest in your mile splits or lost toenails, set up a virtual run group on WhatsApp or social media with your running mates. Share your training, swap routes and tips, post pictures from your runs and check everyone's doing ok.
Interacting with others helps us feel less lonely and can boost our mood, so you'll be helping your friends as well as yourself.
8. Don't be tempted to overtrain
No work commute and an increasingly sparse social calendar could mean you've found yourself with more time to train. While this is good in theory, don't be tempted to overdo it.
Just because you have extra hours in the day doesn't mean you need to fill them with exercise. Normal rules still apply.
Suddenly increasing your mileage, or adding intensity when you haven't built up to it can lead to injury and overtraining syndrome.
Often described as burnout, overtraining syndrome can affect your sleep, make you feel mentally and physically fatigued, and impact your performance with runs that usually feel easy now feeling much tougher. It can also lower your immune system making you more susceptible to coughs and colds.
Keep it in check with NURVV RUN's training load feature, which recommends how far you should be running each week to stay healthy. Checking your heart rate can also be a good indicator. A higher resting heart rate when you wake up in the morning could be a sign of illness or overtraining.
Remember, rest and recovery are just as important as running to stay fit, so build them into your schedule.