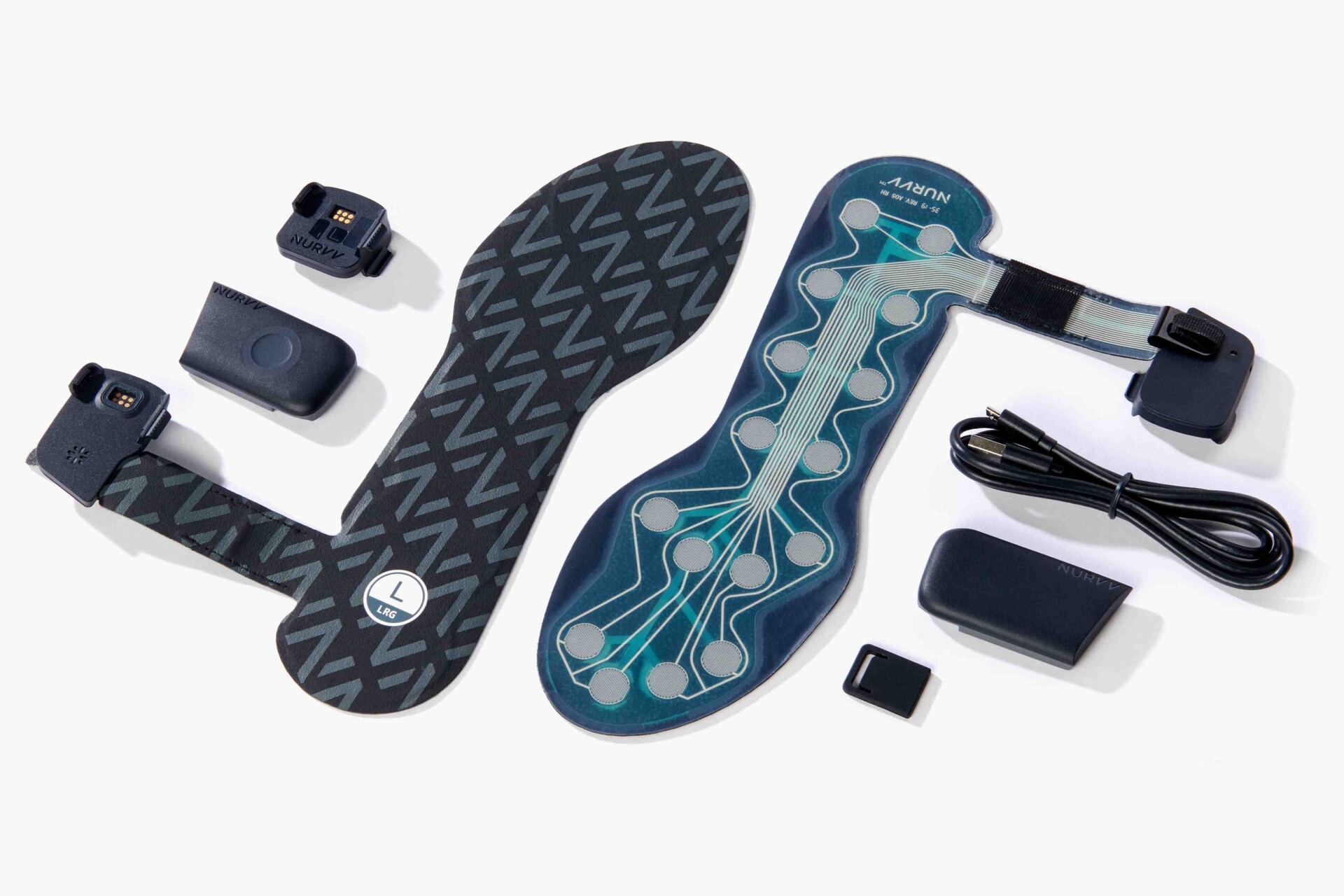 NURVV Run Smart Insoles
An award-winning sports wearable that measures your running from the point of impact
Smart running insoles with lightweight trackers that fit any running shoe
Provides insight, guidance and coaching to help you run smarter, train healthier, improve faster
Pair NURVV with your Bluetooth Heart Rate monitor, Garmin® or Apple™ Watch and Strava for a complete training experience
Free tracked shipping to US from Chicago, Illinois.

Delivered in 2-5 working days
30 Day Money Back Guarantee
Try NURVV Run out for yourself, worry-free, if you're not completely satisfied simply return within 30 days for a refund
Product Detail
32 precision sensors collect data from the foot with world-leading accuracy that can only be replicated in a sports lab

Ultra slim, super soft, lightweight and fit comfortably under any running insole

Real time coaching with targeted audio, visual and haptic feedback to help you progress outdoors or on the treadmill

Footstrike Trainer, Pace Coach, Running Health score and recommended optimal training load to minimize injury and increase fitness
Whats in the box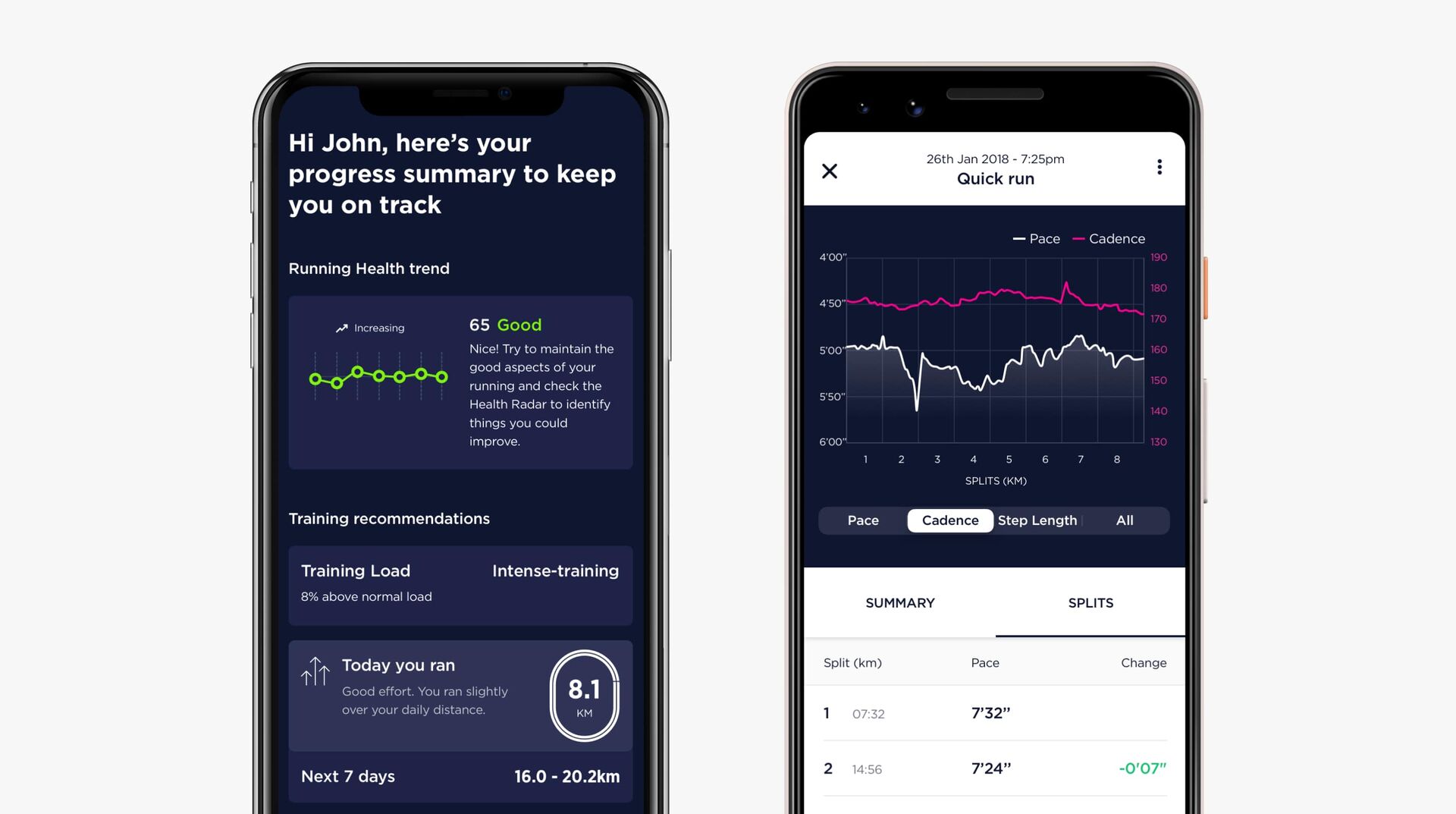 Compatibility
NURVV Run works with:
iOS: 12 or above (iPhone 6s or above)
Android™: 6.0 or above
Apple Watch Series 3 or above
ANT+ (Garmin)
Can also be used phone free
Delivery
NURVV Run is usually delivered with signature required but due to the restrictions of COVID-19, Signature required service will be done by contactless delivery.
UK
Free standard shipping
Delivered in 1-3 working days
Tracked delivery
Signature required
US
Free standard shipping
Delivered in 2-5 working days
Tracked delivery
Signature required
Returns
Free returns for nurvv.com orders
You can return NURVV Run provided it is unused and in the original packaging with all accessories included, and is returned within 30 days from the date delivery. For reasons of hygiene, if the product has been used in this time a restocking fee is applied. To initiate a return please contact Support for a free returns label. There is no restocking fee if the product is unopened.
So far, customers have run..
million
footstrikes have hit the ground in that time
NURVV Run is for all runners! Whether you are new to running or already an expert looking for that extra edge to improve your performance, NURVV Run is for you. NURVV Run can help runners of all levels to run faster and stay injury-free.
Yes, you can run phone-free with your NURVV Run.
Starting a Phone-Free Outdoor Run:
Turn the trackers on and head outside without your phone.
Wait for the left tracker status light to display a slow pulsing green light, indicating that it is ready to run. This should take no longer than 20-30 seconds. The right trackers might be blinking blue and yellow indicating that they are searching for your mobile device.
Red and yellow lights indicate that the trackers are searching for GPS. It is important that you remain still during this process to get the quickest connection.
Once you see pulsing green lights on the left tracker, press the Activity button (the large button on your right tracker) to start an Outdoor run. The left tracker status lights will change to a quick flashing green, indicating that the run has started.
To pause your phone free run, press the activity button. In the paused state, your trackers LED lights with flash green and yellow.
To restart your run from the paused state, simply press the activity button again or to end your run, hold down the activity button for 4 seconds. Your tracker will return to a slow pulsing green. You can then turn off your trackers.
Your runs will be stored on your trackers until they are uploaded to the app.
Other Types of Phone-Free Runs
Pressing the Activity button starts an Outdoor run by default. If you'd like to go for another type of run phone-free, simply configure the trackers using the NURVV Run app and then start your phone-free run using the Activity button as described above.

NOTE:
In-run audio cues cannot be delivered unless the NURVV Run app is connected to your trackers and a pair of compatible wired/Bluetooth headphones. If you're interested in running phone-free whilst benefiting from NURVV Run's live status and coaching cues, consider using our NURVV Run Apple Watch app or pairing your trackers to a compatible ANT+ device.
If your trackers are powered off, they will revert to the default configuration, and an Outdoor run will be started if the Activity button is pressed. If your trackers are powered off following configuration for another type of run, you will need to turn them on and re-configure using the NURVV Run app before starting your phone-free run.
The NURVV Run app will run on both iOS and Android phones.
Apple iPhone
NURVV Run is compatible with iPhone 6S and above, running iOS 13 onwards.

NB. NURVV Run is not compatible with the 2016 iPhone SE.
Apple Watch
NURVV Run is compatible with Apple Watch, from Series 3 onwards, running WatchOS 5 or above.
Android Phones
NURVV Run is compatible with Android 6.0 (Marshmallow) or above.
NURVV Run is not compatible with the Google Pixel 4 or the LG Phoenix 3
Bluetooth Heart Rate Monitors
NURVV Run has compatibility with Heart Rate Monitors which use Bluetooth
Other Compatible Devices
NURVV Run is compatible with ANT+ devices and supports the Stride-Based Speed and Distance profile.
For a full list of compatible ANT+ devices, click here.
To see a guide to using NURVV Run with a Garmin watch, click here.
Don't just take our word for it,
here is what others have to say...
"Move over Fitbit - here comes NURVV Run"
"NURVV is a really impressive bit of tech that offers something new compared to wrist-based run trackers – the ability to track your pronation and footstrike patterns."
"NURVV's smart insoles are a powerful tool for both new and seasoned running pros."
"As a way to optimize your running based on data, I'm not sure I've ever seen a better tool."
"The Nurvv Run insoles have made me rethink the way I run."
"NURVV's high-tech insoles will revolutionize your runs. With 32 sensors analyzing your gait, these insoles (and app) provide a detailed analysis of everything from your stride length to your pronation."